De Spuyt is a truly international club!
Although most of De Spuyters are Dutch, we have players from Italy, Germany, Brazil, Thailand, Philippines, France, Eritrea,  Hungary, etc… Everybody can speak English, however knowing some basic Dutch might be handy during training or matches!
Here a "survival" list of volleyball words, courtesy of our Dutch-for-foreigners  teacher Eva, Dames 3.
posities = positions
passer – loper / buiten = outside player
middenman / mid = middle blocker
spel (-verdeler) = setter
dia = diagonal
aanvaller = attacker
plek / laats = places
buiten = outside
midden = middle
voor = players at the net / in front
achter = players in the back / back
rechts = right
links = left
positie 1(één), 2(twee), 3(drie), 4(vier), 5(vijf), 6(zes) –> position 1, 2,3 ,4, 5, 6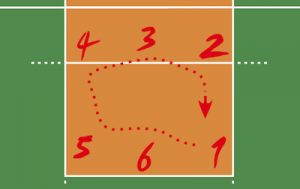 tempo 1(één), 2(twee) –> counting from the setter/ tempo 1 is when the mid attackers gets the ball, tempo 2 when the outside player gets the ball 😉
goed om te weten = good to know
bal = ball
spel = game
service = service
wedstrijd = game (competition)
vereniging = club association
fout / verkeerd = mistake / wrong
regel = rule
net = net
paal = pole (where you put the net on)
antenne = antenna
opstelling = setup (of the team)
tegenstander = opponent
omkleden = to change cloths
kleedkamer = changing room
aanvoerder = captain
scheids (rechter) = referee
winnen = to win
verliezen = to lose
Lichaamsdelen = Body Parts
enkel = ankle
knie = knee
billen = butt
benen = legs
rug = back
schouders = shoulders
hand = hand
voet = foot
spieren = muscles
oefeningen = excercises
aanvallen = to attack
verdedigen = to defend
passen = to pass
inspelen = warming up with ball
rennen / hardlopen = to run
in een tweetal / met z'n tweeën = in pairs / two ppl together
knie heffen = knee lifting
hakken billen = heels tot he butt
rekken = to stretch
kracht = power
wisselen = to change (positions / excercise no cloths)
'pepperen' –> when you do warming up with someone who will attack and receive the bal and the attack the other person
x keer = x times
springen = to jump
(door)tikken = to tick with the finger
schermen = fencing
prikken = when an attacker makes a smart ball behind the block
slimme keuze = smart choice
blokken = to block
handige woordjes / zinnen = useful words / phrases
toevallig = maybe / 'because of a coincident'
Snap je dat = Begrijp je dat = Do you understand it?
Is het duidelijk? = Is it clear?
Je gaat = You are going to…
Blijf… = Stay…
Draai door! (doordraaien) = turn to next position
Neem een slokje water! = Take a sip of water!
Goedzo!= Well done!
Ik / Los = My ball-I take it
Over = Take it over